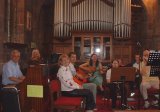 St. Lawrence's musicians play a major part in our worship each week.
In addition to singers, we have a wide variety of instruments (currently including: violin, drums, guitar, mouth organ, piano, keyboard and organ). We also encourage our younger members, at the 11 o'clock service, to join in with percussion instruments and flags!!
A much larger choir rehearses for the Christmas Carol Service and for other special events.
We encourage enquiries from those interested in joining our music group.Practices are held on Thursday evenings between 19.30 and 21.15 and usually follow the pattern below
Please come along to a Thursday Practice or email music@biddulphchurch.org.uk to find out more.