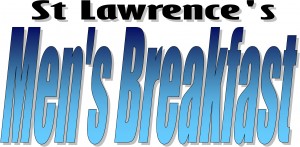 Our Men's Breakfast Club is held on the 2nd Saturday of every month from 9am 'till 10am in the Parish Room at St. Lawrence's Church Hall.
For just £3, St. Lawrence's Men's Breakfast club does exactly what it says on the tin. It's an informal place where you can get to enjoy a good cooked breakfast, have a chat, and if you want to, make a few new friends.
Please contact Gez on 513891 to book your place.
For more information, please give the Church Office a call (01782 513891) or send us an email