LATEST NEWS: VIBES 2017 is now underway
Vibes is our hugely popular, week-long, fun-filled Children's Holiday Club which is held at St. Lawrence's each August for children aged 4 to 13,
Vibes 2017 (EPIC EXPLORERS) starts with our All-age Celebration Service at 11am on Sunday 13th August and then runs each day from Monday 14th to Friday 18th between 9.15am and 12.30pm. It costs just £15 for the week.

It's packed with loads of activities such as
crafts,
painting,
singing,
dancing
games
all aimed at teaching children about the Christian faith in a way that is fun and meaningful.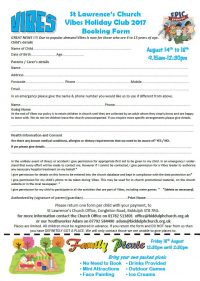 Booking is essential.
You can download and print the Vibes 2017 booking form by clicking or tapping HERE.
Vibes 2016 was an amazing success with lots of children attending each day. Photographs of last year's Vibes may be found on our Facebook Page.
While you wait, there's lots of children's and youthwork going on at St. Lawrence's.
Please use the menus above to find out more about our Sunday Groups,  Kangas n Roos, NRG, and 10:10