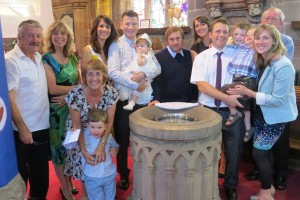 "Hi. You're most probably looking at this page because you've recently had a baby. Congratulations! I hope that you're enjoying being a parent.
The birth of a child is a very special occasion. Many people are overwhelmed at the wonder of bringing a new life into the world, find it a very spiritual experience, and quite rightly think of God. Perhaps you're already considering a special service in church for your child and wanting to know what St. Lawrence's can offer. We would certainly love to meet you and help if we can.
We offer two services to parents with young children: a Service of Thanksgiving for the Gift of a Child and a Baptism Service (sometimes also called Christening.) To help you consider them we've put together an information leaflet that you can download below. You'll also find copies of the words we use in both these services. Finally there's a reply form if you want to get in touch with us to book a Thanksgiving Service which we do for everyone first. You can also tell us if you're interested in coming to the Baptism Preparation sessions we run every month to help parents and godparents who want to go on to consider the meaning of baptism for you and your child.
If you would like to make an enquiry about a Baptism or Thanksgiving service, or if you'd like us to contact you, please complete the on-line form.
We look forward to hearing from you.